A city melted into the countryside
When you see Siena from afar, resplendent in its medieval harmony, you'll notice that the three hills on which it stands are the high points in an idyllic backdrop of arable fields, where the edges of the ancient city melt into a countryside that looks like a painting by Ambrogio Lorenzetti. The Siena that greets you today is largely the same as it would have appeared back in 1300, and preserving its unique, coherent inheritance of medieval architecture is one of the main reasons to visit such a magnificent city.
The golden age of Siena began when it established itself as a serious rival to Florence in the late Middle Ages. In the space of a few decades, the incredible Palazzo Comunale (or Palazzo Pubblico) and its soaring Torre del Mangia were erected while Piazza del Campo's unmistakeable seashell shape was lined with travertine. The piazza is known throughout the world for two things: twice a year it becomes the hippodrome for the Palio delle Contrade; and the ground is covered with tufo powder to help racehorses grip. In 1348, work on the cathedral began—Sienese builders intended to make it bigger, but their expansion plans were shelved when the Black Death struck that year. Still visible today is evidence of their intention in Piazza Jacopo della Quercia: columns can be seen where they would have propped up an extra nave and façade—had the plans come to fruition.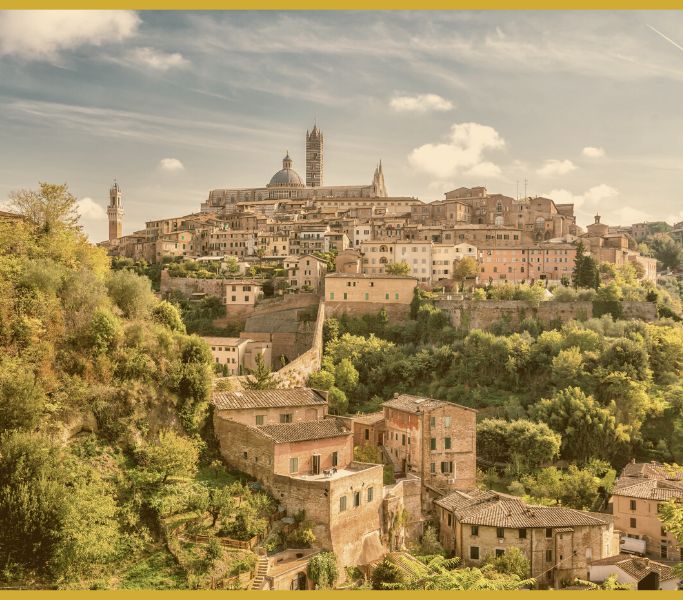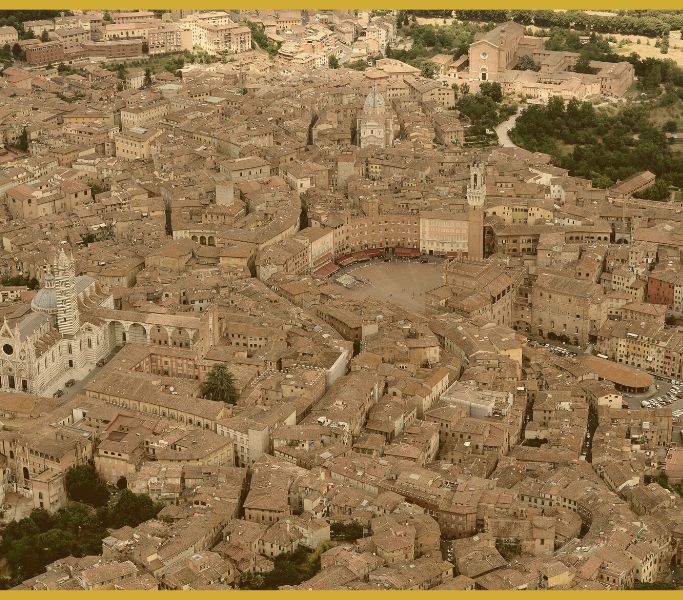 Some of Tuscany's most beautiful areas lie immediately around Siena. Just think of San Gimignano, which is an easy bus ride away: the city whose towers have earned it the name of the "medieval Manhattan". You should not miss a visit to the castle of Monteriggioni, which Dante described in his Divine Comedy. In Inferno 31, the great poet compares the outlines of the giants in the ninth circle of Hell to the circuit of walls that surrounds this Tuscan town: "for as Monteriggioni's round wall is crowned with towers, so they [the giants] towered here above the bank that runs around the ditch".
Buonconvento, emerged in the thirteenth century along the Via Francigena, the ancient pilgrimage route that conducted and conducts pilgrims to Rome from western Europe. Finally, we recommend a trip around Asciano, which is characterised by the hills and ravines that make up the "lunar" landscape of the Crete Senesi. The colour of this area varies from blue to grey, thanks to the presence of clay mixed with halite and chalk. Among these undulating hills grows the precious white truffle, which has its own museum and an annual festival.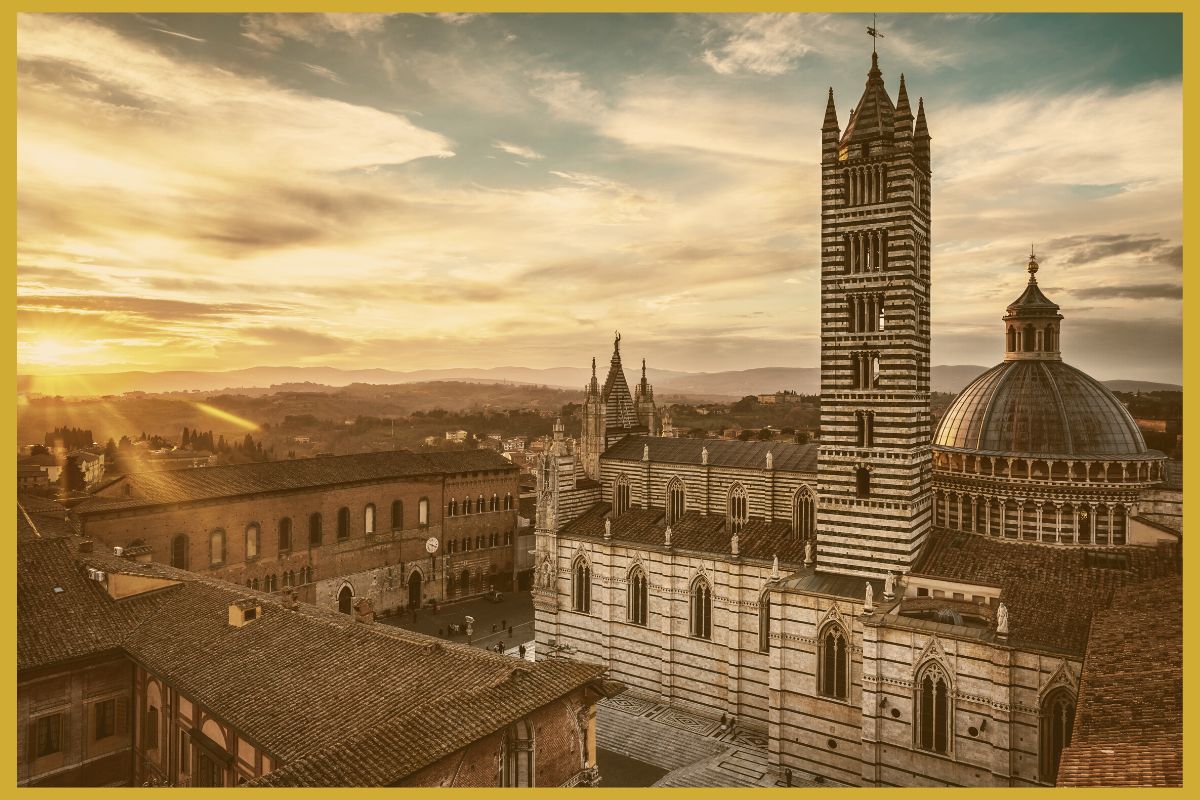 Twice a year, Siena is the scene of a horse race in Piazza del Campo. The race is part of an ancient tradition called the Palio di Siena. It takes place on July 2 and August 16. The rest of the year, Piazza del Campo hosts an outdoor market. A hospital complex called Santa Maria della Scala also organises exhibitions and displays that attract Italians and foreign visitors alike.
Typical Dishes and Produce
 This ancient city, which goes back to Etruscan times, has so many traditions. One of them is its food: Siena boasts the largest and tastiest menu of sweet foods in all Tuscany. Ricciarelli, Panforte, Pan Pepato, budini di riso, Cavallucci and Copate must be tried. So must Pici—a type of thick hand-rolled fresh pasta—and pecorino cheese along with Cinta Senese sausage.
How to get to Siena from Villa Vianci
Siena is 15 mi away from us and it is not difficult to drive there. However, if you prefer not to drive, you can ask us to book a a taxi shuttle for you. (Please note that in peak seasons this kind of service is very requested. We suggest you to book it ahead of time.)
If you go by car we suggest you to to follow this google maps itinerary that will guide you to Parcheggio Stadio parking lot.